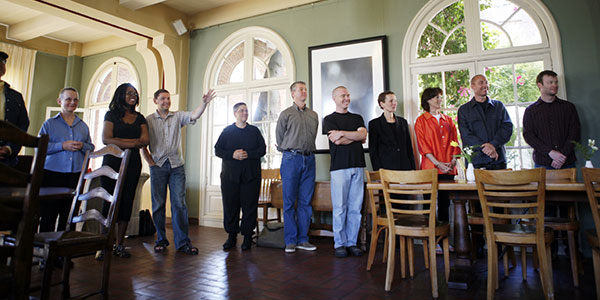 Beginning in January 2024, the City Center Renovation Project will require that application for residential practice opportunities at City Center be suspended. This will continue until the end of 2024 or the completion of the project. Applications may be accepted again beginning in November 2024 for 2025. To stay informed about the project and its progress, please sign up to receive Sangha News and check our social media communications (see links in the footer of the website).
Green Gulch Farm and Tassajara will continue to offer residential practice opportunities, as described on the Live the Temple Life page.
---
Those interested in becoming City Center residents usually begin with a practice period with the City Center sangha, joining as a "practice period resident." When a new practitioner has gained experience with the community and found their presence in work and sangha practice, it is possible to apply for longer-term residency. Those with Zen practice experience at a San Francisco Zen Center affiliated sangha are also encouraged to apply. Longer-term stays in the building are decided through deep intention, consultation with a practice leader, and an interview with the City Center Director.
The City Center community is home to approximately 45 to 65 residents, both lay and ordained. All residents are expected to participate in the daily zazen schedule (including sesshins), attend classes, and have contact with a practice leader. Residents may work for SF Zen Center or work outside; some are residents for only one practice period and others stay for many years.
For residential practice there are single and shared accommodations in the City Center building, as well as single rooms in two restored Victorian flats nearby. For more information or to apply for a residential practice period, please refer to the Practice Periods & Intensives web page or email the City Center office at ccoffice@sfzc.org.