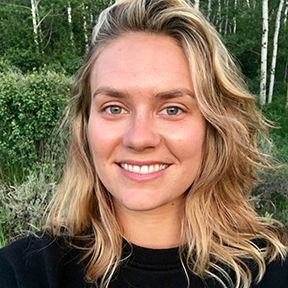 Joanna Marshall (she/her) has been practicing at the San Francisco Zen Center since 2018. She fell in love with Zen Buddhism and SFZC during a Women's Young Urban Zen Retreat at Green Gulch Farm led by Nancy Petrin and Mei Elliott. The experience at Green Gulch felt like releasing a breath that she didn't know she was holding. From there, she continued to say "yes!" to every opportunity to deepen her practice.
Since 2019, she has been a volunteer leader for Young Urban Zen, a sangha at Beginner's Mind Temple for newer practitioners in their 20s and 30s. In 2022, she began formally studying the precepts and sewing a rakusu with Mei Elliott and Shinchi Linda Galijan. In 2023, she was delighted to be able to take a sabbatical from her job  in order to participate as a full-time resident in the spring practice period at Beginner's Mind Temple led by Ryushin Paul Haller. She continues to stay active in the temple as a volunteer on the evening doan ryo and in Young Urban Zen.
Outside the temple, she works as the Director of Development & Marketing for Planet Women, a start-up nonprofit that invests in women-led, women-focused environmental projects. Joanna is responsible for building relationships with donors and partners, managing communications, and contributing to a new paradigm of women's leadership in the environmental space. She combines her reporting skills, people skills, and natural curiosity to get to the heart of complicated conservation and social issues and bring scientific work to life in a way that motivates people to take action. Previously, Joanna worked at The Nature Conservancy in California for six years, where she led communications and marketing.
She has an MA in journalism from New York University and a BA in comparative literature with a minor in environmental studies from University of Southern California, as well as a nonprofit marketing certificate from Northwestern's Kellogg School of Management. She loves the smell of bay laurel trees and damp earth; enjoys being out of service, on the trail and sleeping under the stars; and insists on reading funny books/articles/tweets aloud to anyone who will listen and many who don't.