Summer Guest Season:
April 30– September 13, 2020
Securing the appropriate overnight accommodations for one's stay can be a complicated process at Tassajara, with many moving parts.
Don't worry -- The Reservations Office is ready to offer assistance!
There are three convenient ways to submit a reservation request: via the online request form, by phone, or by mail.
Online Requests
Click here to use the online Reservations Request Form. Please use the online reservation form to plan your stay.  The Tassajara Reservations Office will respond to your planned reservation request within three to five days to confirm your reservation or discuss availability.
By Phone
 Please call 888.743.9362 or 415.475.9362
By Mail
Remove the Reservation Request Form found in the Tassajara Brochure and mail the completed form to:
Tassajara Reservations
300 Page Street
San Francisco CA 94102
Mail-in Reservation Request Forms will be processed in the order they are received. To facilitate the request, be sure to fill out all sections of the form, and include payment equivalent to the estimated 50% deposit.
Requests are not finalized and no charges will be made until the office makes contact to confirm the reservation - usually within a few days.
Please explore the Tassajara website to find additional information about the various types of stay, retreat information, available accommodations and other booking options.
In order to facilitate this process, it is helpful if guests have a sense of what type of visit they are planning, and have several options for available dates. Although office staff will do their best to match the preferences of guests, it works better if they have some flexibility in their requirements.
Here's what the Reservation Office needs to know:
What are the dates of the visit? Alternative dates are helpful.
How many people are in the party? 
What are preferred accommodations and bed configuration? The office will call to discuss.
Does the request include a retreat reservation or is that being considered? Let the office know.
Let the office know about travel plans to and from Tassajara.
For additional information, please call 1-888-743-9362. Tassajara welcomes all 2020 guest season visitors!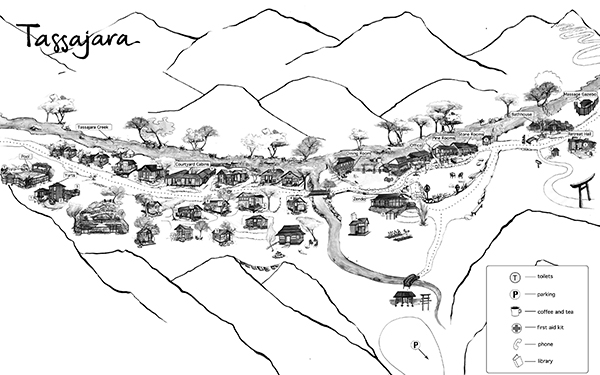 To download a .pdf of this map click the image or click here.
---