Date / Time
April 22, 2023 / 1:00pm - 4:00pm
Event Type
Workshops and Retreats
Description
The Zoom link to participate in the workshop portion of this event will be provided at least 24 hours before it begins. Please call 415-354-0360 if you have any questions.
NOTE: This event was originally scheduled for Sunday, March 19, and has been changed to Saturday, April 22.
---
Saturday, 1 – 4 pm PT
In this afternoon workshop, we gather together for meditation, drawing, exploration, and play. Many studies illuminate the calming and restorative effects of meditative drawing, and its positive effects on brain health and well-being. We'll start with exercises to enjoy the meditative movement of pen or pencil on paper, and learn enjoyable drawing techniques to use throughout the course. We will observe everyday objects and plants with new eyes and new appreciation. A short period of guided meditation and a Dharma talk will be included. Everyone is welcome to join us in a non-intimidating circle of community, as we enjoy drawing with beginner's mind, whether we are experienced artists, have some or no experience, or have even declared, "I can't draw."
If you've been with us before, please join us again for new explorations.
Materials: Printer paper or sketchbook, pencil, ballpoint pen, colored felt tip markers or colored pencils. Optional: Watercolors. Thicker paper rated for watercolor or light wash/mixed media use. Micron, Staedtler, or Copic style waterproof liners in black ink; sizes 0.3, 0.5, 0.7, 0.8, or 1.0.
Images from Sam: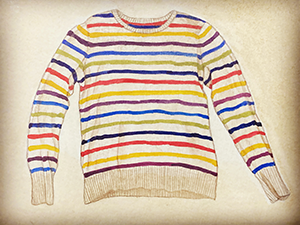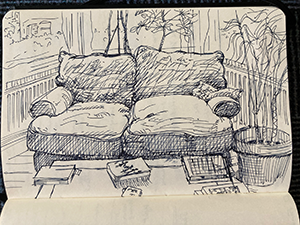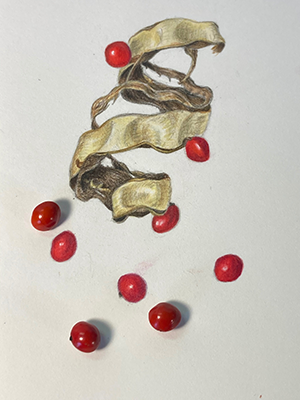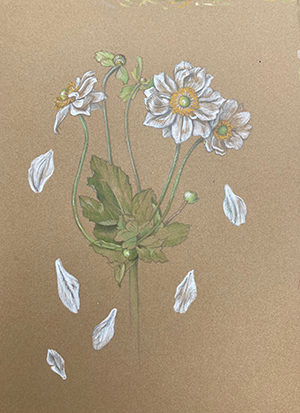 Fee Information
General $75
Current SFZC Members $67.50
Sliding Scale 1: $45
Sliding Scale 2: $18.75
For additional discount options, please email us at rezoffice@sfzc.org.
Or call 415-354-0360.